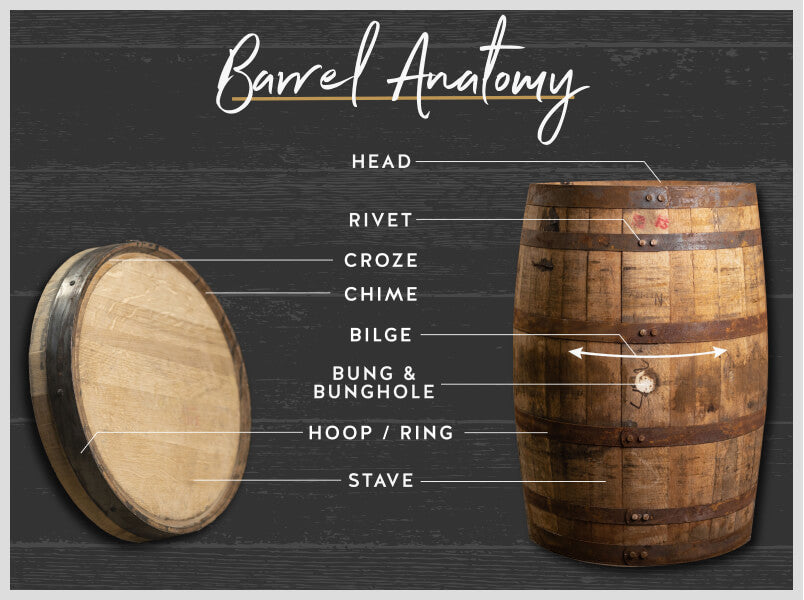 Your Guide to Barrel Care
Our barrels arrive "freshly-dumped," meaning they were recently emptied of the spirit that was last aged in the barrel. We source our whiskey and bourbon barrels from both small craft distilleries and major brand name Kentucky and Tennessee distilleries.

Midwest Barrel Co. does not rinse, clean or alter the inside of the barrels in any way. We do not add spirits back into the barrels. They come exactly as is from the distillery.
barrel specs:
Size: 53 Gallon

Oak Type: American White Oak (Quercus alba)

Bung Type / Size: #11 Solid or Ventilation (fits 2" bunghole size)
Need help with your barrel?
If we're doing our job correctly, there shouldn't be a whole lot of care needed for your barrels. But sometimes life happens and barrels aren't filled quite as quickly as you anticipated.
Bourbon vs. Whiskey vs. Whisky
Is there really a difference?
You've heard it go by a few names, but does it really make a difference when picking a barrel?

Why, yes. Yes it does.
For starters, there are many types of whiskey. Domestically, we have rye whiskey, bourbon whiskey, Tennessee whiskey and Kentucky Straight Bourbon Whiskey. Popular international whiskey (or "whisky" as it is more commonly spelled) include scotch whisky, Japanese whisky, Irish whisky, and Candadian whisky, just to name a few.

So why do all of these technicalities matter? Because it's the law!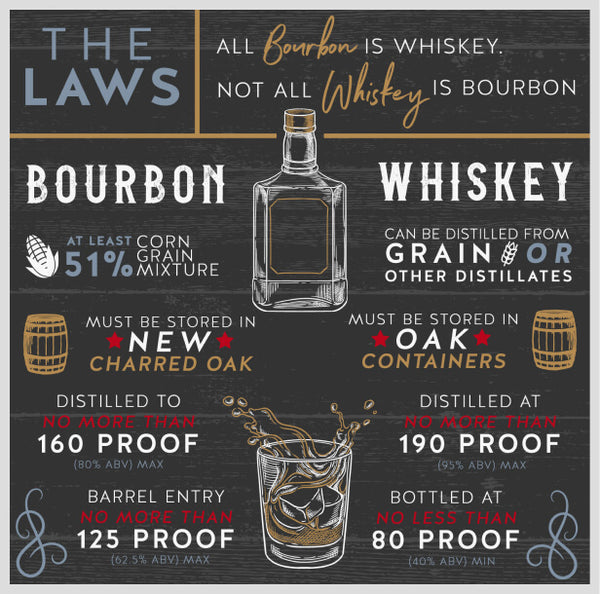 Damn. Good. Barrels.
OUR BRAND PROMISE
At Midwest Barrel Co. we take pride in doing things right. Simply put, that means our customers get the right barrel at the right time, by people who actually give a damn. It's our promise.
GUARANTEED LEAK-FREE FOR 30 DAYS
Our top priority is providing leak-free barrels. Because fresh barrels do have a shelf life it is best to fill them immediately upon delivery. Every now and then a leak sneaks through the cracks. Purchased within the last 30 days? No worries - we've got your back.
Fresh Dumped
Recently emptied barrels are considered "wet" or "fresh dumped." Immediately following, they are loaded onto trailers at the distillery and delivered to our warehouse within one to two days.
Multi-Point Inspection
Upon arrival, Midwest Barrel Co. visually inspects all barrels, and if necessary, pressure checks for leaks. This process ensures they are liquid grade and ready to be used again for barrel-aged beer.
Decor Grade Barrels
If we find a leaky barrel, we do not repair it. We're not in the business of temporary fixes. These retired barrels are now ready to be upcycled as decor, furniture and barrel art. This ensures only the highest quality barrels are delivered to be refilled.
wHY TIMING IS IMPORTANT
A successful barrel-aging program takes time and commitment.
We know that a lot of planning and execution goes into your brewing schedule and fill dates. For best results, we always recommend filling within 7 days of receipt. Your barrels will arrive tight and ready to fill.
Couldn't fill within a week – now what???
We get it, dates and times don't always line up just perfect. Generally, filling barrels within three weeks of arrival shouldn't pose a problem.

But...the longer a barrel sits, the drier it becomes. This makes the barrel more prone to leaks. If you know you will not be filling your barrel immediately, we suggest holding off on purchasing until closer to your fill date.

Should you be unable to fill your barrel immediately, we encourage you to store it in a cool and humid environment (think dank basement or cellar). If you plan to fill beyond that amount of time, you may need to take some simple steps to swell your barrel before filling.
Let's Keep it Fresh
Barrel Storage Tips
FLIP IT.
If storing for 2 weeks or less, stand the barrel vertically and fill the top head space (outside of the barrel) with water to keep the head and stave joint swelled. Every couple of days, FLIP the barrel and repeat to the opposite head. *Pro tip: use hot water 180º or more.
GAS IT.
Fill the barrel with an inert GAS such as nitrogen.  This process, called nitrogen purging, will remove all oxygen from the barrel. This helps keep microbial activity to a minimum. Seal the barrel with a wood or silicone bung after filling with nitrogen.
WRAP IT.
Barrels love moisture. To preserve flavor and keep the staves nice and tight, WRAP the barrels in stretch wrap to help hold in moisture for an extended period of time. Some brewers will use this method using clean wet towels, however, this technique is more beneficial for barrels that need to be swelled.