BEHIND THE AWARD
Brew award-winning beer with our barrels.
NOT ALL BEER IS CREATED EQUAL
Because ingredients matter...
Mass produced beer is cheap, quick and watery - and none of us with an acquired taste wants to drink that. The big boys may be able to produce top dollar Super Bowl commercials but they compromise with subpar ingredients.

Let's be honest, craft beer takes time, patience and money to produce a top quality brew. You're in the craft brewing space because you celebrate innovation, community and creativity. And yes, the hallmark of a successful release is people lined up around the block. For you, it's about more - creating something that has never been done before.

You wouldn't settle for barley or hops that wouldn't get the job done. So why not get the best? Here at Midwest Barrel Co., we believe our barrels are the key ingredient for your success.
Damn. Good. Barrels.
OUR BRAND PROMISE
At Midwest Barrel Co. we take pride in doing things right. Simply put, that means our customers get the right barrel at the right time, by people who actually give a damn. It's our promise.
REVOLUTION BREWING
Why the biggest names in craft beer trust Midwest Barrel Co.
"Over the past six years, we've seen a dramatic reduction in problematic leaks and lost ZERO barrels to infection. Coupled with their excellent service and selection, Midwest Barrel Co. should be the first place any barrel wrangler looks to start, grow or optimize their program."
- Marty Scott, Head of Barrel-Aging at Revolution Brewing
WHAT MAKES US UNIQUE?
Because barrels can be complicated, we have a team of brewers, bourbon aficionados, craft beer lovers, bbq masters and DIYers ready to share their expertise and know-how with you.
EASY
We keep things simple & speedy - order online or talk to a human. It's up to you.
EXCLUSIVE
We have exclusive partnerships & products (hello Willett barrels) that equal trust, access and consistency.
EDUCATION
We humanize the education experience by being your all-access barrel consultants.
YOU'RE IN GOOD HANDS
Building your barrel-aging program takes some serious commitment but is well worth the investment.

At Midwest Barrel Co., we partner with 500+ breweries each year to supply top quality barrels. We get them there fast and fresh. No excuses, everytime.

Working with beverage producers in all 50 states and 19 countries (and counting), we know your needs are unique. That's why our on-staff brewers and barrel experts are available at every stage of the aging process.
MEET THE EXPERTS
MEET BEN
CEO & CO-FOUNDER
He's Barrel Ben. The guy who started it all. As a viticulturist Ben appreciates the distinct ingredients needed to craft a fine beverage. He's our international and wholesale barrel guy, and not only is he in the know about what's on the market, but he can sniff out a good deal from a thousand miles away (literally).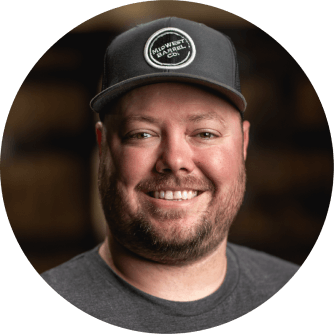 MEET NICK
BARREL-AGING CONSULTANT
Ever get tired of talking about craft beer? Neither does Nick. As a former commercial brewer, he's on speed dial as our barrel-aging phone-a-friend. If you're thinking about brewing, he should probably be on yours, too. Nick's taking care of business – ours and yours. He makes sure barrels arrive on time and as expected.
MEET ETHAN
DIRECTOR OF BUSINESS DEVELOPMENT
If you are a brewer, you've probably spent time chatting with Ethan. More than just a craft beer lover, he genuinely cares about you and takes pride in helping your barrel-aging program. Want to make your brews award winning? Ethan is your guy!