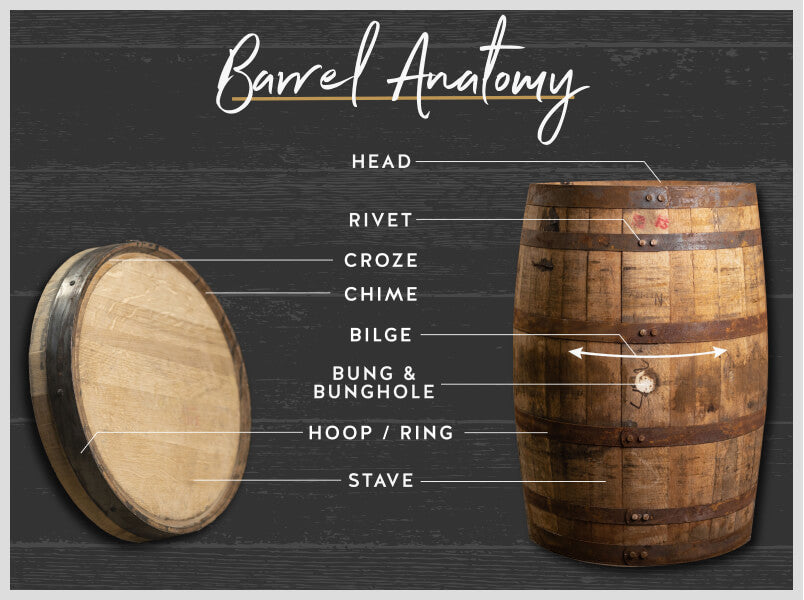 Your Guide to barrel care
Our decor barrels are retired bourbon/whiskey and wine barrels that previously aged spirits or wines from American distilleries and wineries. These decor barrels are authentic – and it shows. They will be worn and contain residual material as they are not cleaned after use. 
Expect plenty of character! The barrels' rustic appearance makes them perfect for beautiful DIY furniture, decor, art pieces, planters, fire pits, rain barrels and so much more. The only limit is your imagination!
BARREL SPECS
Size: Wine: 59-60 gallon; Whiskey: 53 gallon

Oak type: American White Oak (Quercus alba), French Oak (Quercus robur), Hungarian Oak (Quercus frainetto)

Source: Wine: California (Napa Valley, Sonoma, etc.); Whiskey: Kentucky and Tennessee

Bung Size / Type: 2" bung hole, use #11 bungs
NEED HELP WITH YOUR BARREL?
If we're doing our job correctly, there shouldn't be a whole lot of care needed for your barrels. But sometimes life happens. No worries – we've got you covered.
How to care for your furniture/decor barrel
Bourbon / Whiskey barrel care vs. Wine barrel care
Decor barrels are sold as-is – exactly as we received them from the distillery or winery. Midwest Barrel Co. does not make alterations or repairs. While these barrels are not sold as leak-free, they can still be swelled and then used for rain barrels.
Furniture grade barrels will be worn and contain residual material as they are not cleaned after use. The interiors of bourbon/whiskey barrels will be charred, while the interiors of red wine barrels will be stained red. Over time, these barrels will continue to dry out, and as such, we do not guarantee them to be leak-free. If the bands begin to loosen or even fall, you can re-swell the barrel by filling it with water and letting it sit for a short time. The bands will then retighten.
And remember, no two barrels are alike! Each has its own character, qualities and story.
Whiskey / Bourbon Barrels
These retired whiskey and bourbon are shipped to us from well-known Kentucky and Tennessee distilleries. They are more rustic and distressed looking than wine barrels. 
We offer two varieties of bourbon/whiskey furniture and decor barrels – Grade A and Grade B. Grade A barrels will have markings on the top indicating the distillery that used them. These barrels will only have a bung hole on the side (belly bung). Grade B barrels will not have distillery marks and may have a bung hole on the top, side or both. The tops of Grade B barrels may not always be perfectly flat.
Wine Barrels
These are retired barrels that come straight from the heart of wine country in California. Not all wine barrels are the same size, but if you order 2 or more, then we will send matching dimensions unless otherwise requested.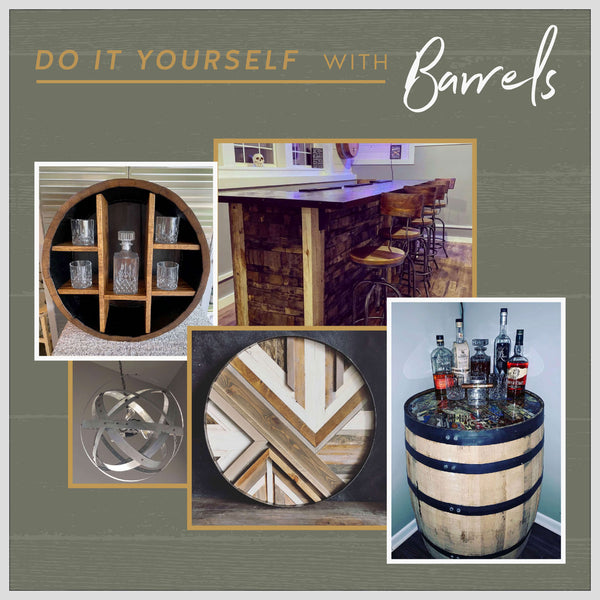 Damn. Good. Barrels.
OUR BRAND PROMISE
At Midwest Barrel Co. we take pride in doing things right. Simply put, that means our customers get the right barrel at the right time, by people who actually give a damn. It's our promise.
preserve your barrel
Barrel Storage Tips
swell your barrel.
Retired or not, barrels become loose over time. If your decor barrel's rings or staves start to loosen, you can fill the barrel with water and let it sit. This will swell the barrel and allow it to tighten back up. 
add screws.
Another common solution for a loose barrel is to add tap screws. All you have to do is insert the screws through the rings and into the staves to hold them together nice and snug. You can do this for every stave or here and there around the rings, but we do recommend adding screws evenly on all rings to keep the barrel tight.
Spray Your Barrel. (OPTIONAL)
While not as necessary for barrels stored indoors, if you're storing a barrel outdoors, then you may want to spray it with polyurethane to help preserve its darker color. This is optional and not necessary, although your barrel's appearance will become more rustic over time if left untreated.